Needing One Preserved Lemon, Now!!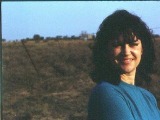 This is another of those kitchen hint "recipes"! You might want to make a nice Moroccan dish, or some recipe calling for a preserved lemon, which you do not have at hand. This little recipe is supposed to help you out.
Directions
Slice the lemon from the stem side down into quarters, but try not to cut right though -- keep it attached at the bottom end.
Put it in a small bowl with just a little room at the sides (non-metal, non-plastic; glass is best). If you don't have a suitably deep bowl for an almost whole lemon, cut the lemon right through into 4 separate quarters.
Sprinkle over the salt.
Boil water in a kettle and pour it over the lemon or lemon quarters. Use a weight or weighted-down small plate to keep the lemon submerged.
Leave for an hour or more. You can try, over VERY low heat, to keep the liquid hot, which works better.
After an hour, especially if the water didn't go cold, the rind and flesh should be tender. Use in your recipe.
(This is just a quick and easy substitute for real pickled lemons!).
Most Helpful
I've bypassed recipes calling for preserved lemon simply because of the amount of salt required. This recipe worked out perfectly and was very easy and the rind was tender and not bitter at all. I had the lemon in a glass measuring cup and inserted the whole thing into a water bath in a pot on the stove set to low for about an hour or so.

This is quite simple and worked well (as far as I can tell - I've never had preserved lemon before). Keeping the water warm enough is key, it seems. It took me more than an hour to get it right because I wasn't monitoring the temperature, but I wasn't in a huge hurry, so I put it in a large coffee cup and put it in the microwave for a minute or two from time to time. Next day it seemed like it was ready. Thanks for a new cooking experience!