Nedlagte Rødbeder - Pickled Beetroot
Peter J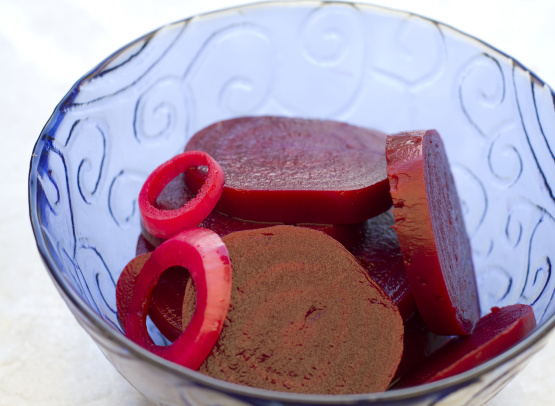 Simple recipe for pickled beetroot. Posted for ZWT 6.

I made these beets two days before Christmas so that I could enjoy them with our holiday meal however; I forgot to set them out on the table. That worked out well though, because I have been nibbling on them each day since then. I will definitely be making these beets again. Just have to make one tiny alteration...I will cut the beet juice back just a pinch and increase the vinegar because I thought the beets could use a bit more twang.
Leave 3-4 cm of stems on the beets with the roots, if any. Scrub throroughly and cook in water to cover 30 to 45 minutes, or until tender. Drain, saving 1½ cups of the juice.
Plungs the beets at once into cold water. Peel. Discard the roots and the stems with the skins. Cut beets into 1cm slices.
Separate the onion into thin rings. Put a layer of beets in a shallow pan. Cover with some of the onion rings. Repeat the procedure unitl all peets and onion are used.
Warm the vinegar, beet juice and the cloves. Pour mixture over the beets. Chill overnight to blend the flavors.