Nectarine Relish for Chicken
Bayhill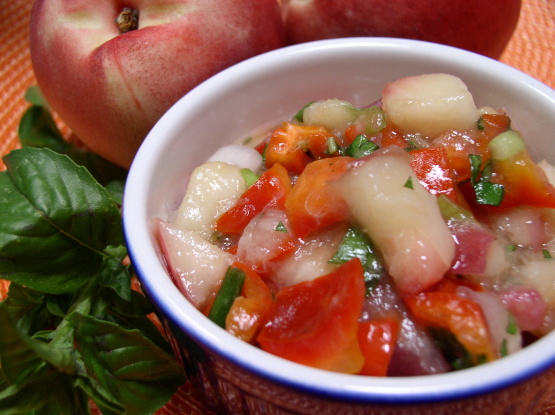 A fruity, sweet and sour relish that is great with grilled or pan-fried chicken breast and white rice. This might work with firm-fleshed peaches, too. You can substitute the dried ginger with fresh.

I thought it was okay. It my husband rated it, he would give it a one star. He seriously gagged on it and had to take it off of his chicken. I don't think I like the mixture of the tastes too well. I think I would have liked just a fruity relish better. The strong oniony, red peppery flavors were too much with the nectarines.
Note: If you sub fresh ginger for the dried, warm it together with the honey.
Wash and dry nectarines and bell pepper, cut nectarines from pit. With a potato peeler thinly peel the pepper ( this works good only with fresh plump peppers, but it makes for a much nicer texture of the dish). Cut peppers and nectarines in 1/8-1/4 inch dice. Wash and trim scallions, cut into 1/8 inch rings.
Warm honey in a small pot over medium low heat. Add nectarines, scallions and bell pepper and cook for 2 minutes, stirring frequently.
Add all the other ingredients, adjust taste and put in a serving bowl. Serve cold or slighly warm with chicken and rice.