Nectarine and Chickpea Couscous Salad With Honey Cumin Dressing
hepcat1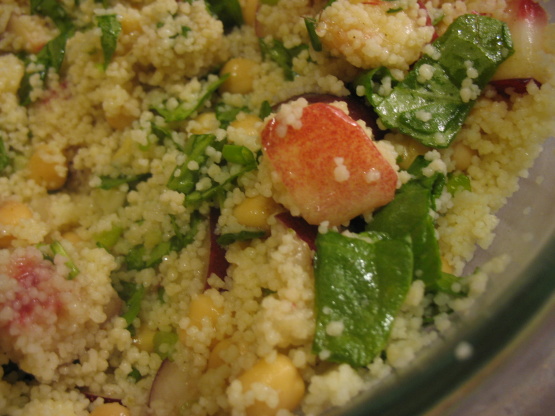 An unusual salad that makes a nice warm weather lunch. Adapted from Cooking Light. 213 calories; 3.9 g fat; 38.8 g carbohydrate; 0 cholesterol. Serving size: 1 cup.

What a great salad! DH and I both loved it, plus it was super fast and easy to make AND very healthy! DH was very skeptical, but the taste won him over. The only change I made was that I only had one lime, so I zested it first then added the juice; I think I got close to the flavor of 2 T. lime juice. The funny thing is that I never would have made this, but I just happened to have all the ingredients for it and nectarines that are on their last leg, so I gave it a shot. I'm so happy that I did! This will be a nice summer side dish. Thanks, ratherbeswimmin'! You never let me down!
Add water to a medium saucepan; bring to a boil; gradually stir in couscous.
Take pan off of stove burner, cover and let stand 5 minutes.
Fluff with a fork; let cool.
In a mixing bowl, add the lime juice and next 5 ingredients; whisk to blend.
Add in couscous, chopped nectarines, spinach, onion, and chickpeas; toss mixture.
Adjust seasoning with salt/pepper if desired.
Serve on individual plates; garnish with nectarine slices.