Neatloaf --- (Vegetarian "fake" Meatloaf)
Larry M.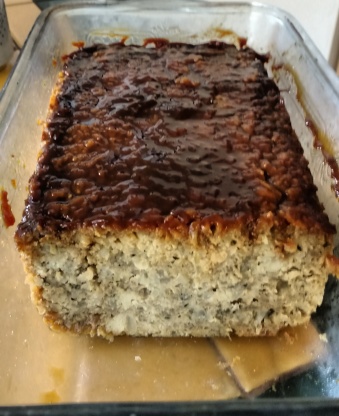 This a VERY similar recipe (that I found online) to the Neatloaf served at Sri Chinmoy restaurants around the country. It is so good. It is my fav. thing at the restaurant. You can eat it alone or on a sandwich with tomatoes and lettuce, etc.) ENJOY! NOTE**** not sure if Lipton onion soup mix is veggie but you can also use any other veggie dry soup mix that doesn't have beef bouillon - check at your grocery store for vegetarian dry soup mixes - OR try one of these recipezaar recipes for onion soup mix substituting beef bouillon with vegetable bouillon #186221 or #24952 (FYI - After I posted this another Zaar member (thanks philocrates) - wrote to let me know that Lipton Onion Soup is vegan after all - http://www.petakids.com/accvegan.html)
I believe I spotted a typo in the amount of tofu used in this recipe. I think it should read 5-6 ounces of tofu. As it is, it appears as 5 (6 oz.) packages of tofu, which would be 30 oz. of tofu. Definitely too much for the recipe. The following instruction : 13/-1/2 block of tofu mashed appears to clarify, but someone should edit the recipe to avoid confusion. Thanks.
Preheat oven to 300°F.
Saute onions and garlic (in small amount of oil).
Beat eggs in bowl, and then add all ingredients except Special K.
Mix well, then add Special K last.
Put in pan that is sprayed with cooking oil (I use 7x9 pan because I don't have a meatloaf pan but you could use either or even 8x8 would probably be great).
Bake 1 hour.
While Neatloaf cooks prepare sauce, whisking together all sauce ingredients in a bowl.
Remove loaf from oven, pour sauce over the loaf and cook an additional 10 minutes.
ENJOY!