N'dizi No Kastad (Banana Custard, Zanzibar Style)
Annacia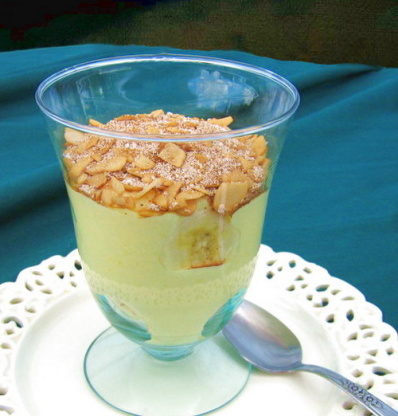 The topping is the thing here. Besides the banana, pineapple, crushed or diced, may be added or substituted for the banana; you also may add some orange sections. Since Zanzibar is the Spice Island, the strong use of cloves and cinnamon as garnish add greatly to the authenticity as well as the flavor of the dish. Cook time is chill time.

This was a really nice twist on a familiar favorite. I played with the proportions a bit... I used the full amount of pudding (banana-flavor, since that's what I had), but replaced half of the bananas with blueberries (well, not for mine, since I'm allergic... but for everyone else); I also made the full amount of topping but cut the sugar in half, and am glad I did -- the pudding is definitely sweet enough on its own. I made four servings out of this, using parfait glasses: first the bananas, then the pudding, then the blueberries and more pudding, topped by the spice/sugar/nut mixture. So good!! Thanks for sharing!!
If a mix is used, prepare the vanilla pudding or custard.
Slice the bananas and heap in 6 to 8 champagne or other wine glasses.
Spoon the custard over the bananas.
Chill and permit the custard to set.
Mix the topping ingredients together; place a heaping tablespoonful of the topping on each pudding.
Serve.