davianng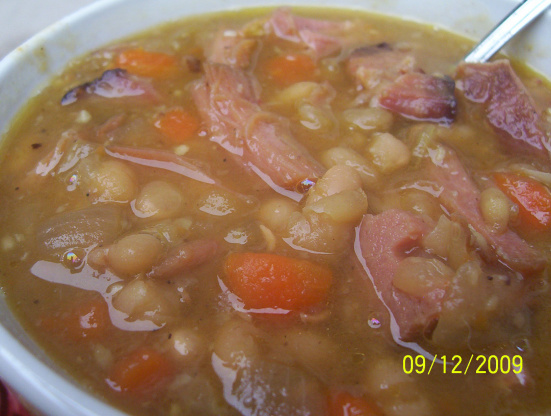 This is something I like to cook up when I have some leftover ham from the New Years on a cold winter evening. I have made this with turkey kielbasa sausage, or you could use any kind of salted meat. This is identical to the recipe I use for black-eyed peas on New Years Day. Serve with corn bread and green salad.

I was anxious to try this, as I have made Navy Bean Soup for years just a little differently. I very much enjoyed this savory soup - the chicken boullion really made a difference. I also used a meaty ham bone I had in the freezer. My recipe uses water and 1 t. thyme, those are the only differences. But this was excellent! Made for I Recommend Tag Game Fall '09
Soak beans according to package directions.
Add Bouillon cubes to 6 cups water.
Add Chopped Ham.
Lightly saute onion, celery, garlic in oil, add to stock.
Add carrots, beans simmer on low 1 1/2 - 2 hours.
salt and pepper to taste.
I live right at sea level here in Alaska, so for some reason beans cook faster here, forgot to add that in until after a couple of reviews.