Annacia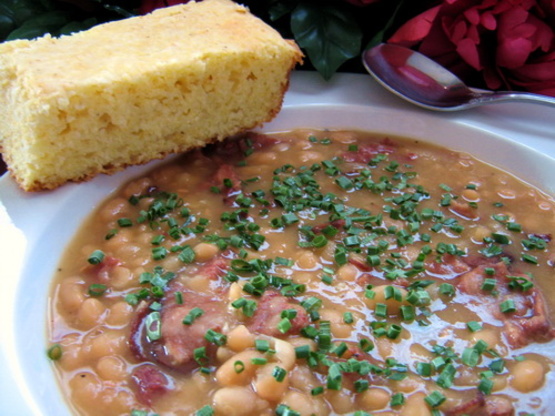 By Winslow. Make sure your beans are fresh and haven't been sitting in the cupboard for months. As they get older, they tend to not cook very well and it is difficult to make them get tender or done. Serve with cornbread and hot sauce if you like. Sometimes I add a little minced onion on the top for garnish.

Very simple soup with good flavor. I increased the amounts of carrots and celery to use up what I had on hand needing to add just a bit more water to give the broth needed. I blended up about 1/3 of the beans before adding the other veggies to make it a bit creamier. Will definitely keep this in my rotation of winter soups. Thanks.
Sort beans and place in a large pot, cover with cold water, and soak overnight. Or bring to a boil for 3 minutes, then cover, remove from heat and beans sit undisturbed for one hour.
Drain bean water.
Add remaining ingredients except celery and carrots to beans (including 7 cups water).
Bring beans to a boil, then lower heat, cover, and simmer for about 90 minutes, stirring and skimming occasionally.
Adjust cooking time if needed until beans are soft and tender.
Add carrots and celery and cook for about half an hour.
Fish out the ham hock, and when cool enough to handle, remove its meat and add the meat back to the pot.