Parsley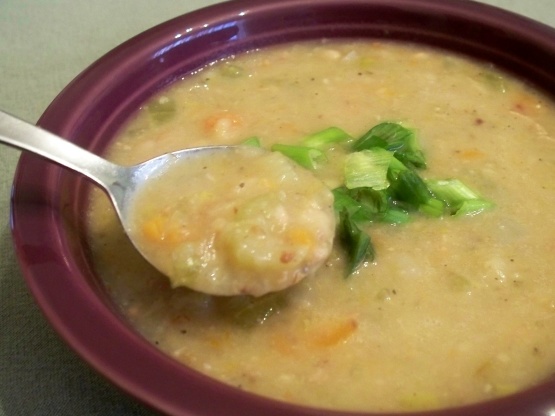 This hearty, delicious soup is full of fiber and protein and so delicious on a cold day.

With just 2 of us, I pretty much made half a recipe, subing 1/4 diced ham for the bacon, used a medium carrot, all of a medium onion, a garlic clove, then about half of the rest of the ingredients! Made for a nice tasting, satisfying soup which was served with a multi-grain, nutty bread! [Made & reviewed for one of my adopted chefs in this Spring's Pic-A-Chef]
In the bottom of your pot, saute celery, garlic, carrot, onion, and bacon until the bacon is cooked through and the vegetables are soft.
Add navy beans and chicken broth to the vegetables.
Simmer until heated through.
Add seasoning to taste.
Bring to a boil, then lower heat and simmer for 20 minutes or so.
If soup gets too thick, add more chicken broth.
Discard bacon.
Remove half of soup and place in a blender or food processor. Pulse a few times and add mixture back to the pot.
Serve with fresh chopped green onions. Can substitue other fresh onions if desired.
Diced ham may be substituted for bacon and left in the soup.