Navy Bean (Ham and Bean) Soup
Bergy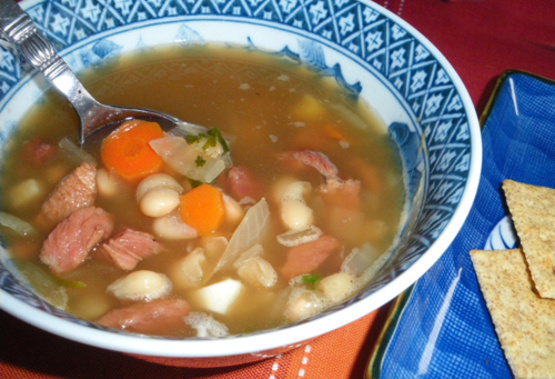 Hearty, thick soup that's a perfect something to do with your leftover holiday ham and bones. Use two bones with plenty of meat on them instead of the ham hocks. I make it every time we have two ham bones in the freezer and once I take most of the meat off, the dogs get the bones for a special treat, so they love when I make this too! Found it on the Food Network site, but I've tweaked it a bit.

Top Review by Bergy
This is a very tasty soup - I used leftover ham steak instead of ham hocks so I subbed beef stock for the water because it would not have the benefit of the ham bone to make a rich soup - It worked well. I made it two days before I wanted to seve it and kept it in the fridge to allow the flavors to mellow.
Put beans in a large saucepan and cover with 2 inches of cold water.
Bring to a boil, reduce heat, and summer for 5 minutes.
Remove from heat, cover, and let sit for 1 hour, then drain.
Tie herbs into a bundle or wrap in a square of cheesecloth.
In a large pot, combine herbs, beans, ham, onions, carrots, garlic, and water.
Bring to a boil, cover, and simmer 1-2 hours or until the beans are tender.
Turn off heat, remove ham and allow to cool, then cut into cubes.
Remove herbs and discard.
Puree about 3 cups or beans with some of the liquid. (I like my stick blender for this, just be careful because it is super hot!).
Stir puree and meat back into the remaining soup.
Season to taste with salt and pepper.
Put in bowls, top with a pat of butter, and serve.