diner524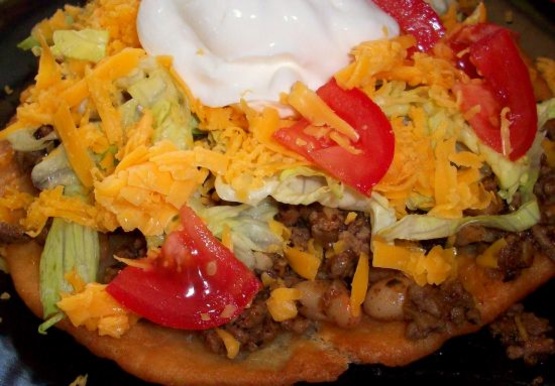 This recipe is different than the other recipes posted in that it uses delicious homemade chili beans rather than canned. You have to plan ahead to make this meal, and it takes a bit of work but it is well worth it! It's more of a special occasion meal and is very easily doubled for a larger crowd. My mom made these for us growing up--I think it is originally from Sunset Magazine.
I made this for lunch for DD and myself, so I only made half the recipe. The first two I just hand shaped and I don't think I got them thin enough, so the 3rd one I rolled out thinner. I have to admit that I cheated and used canned northern beans, so I skipped the first part of the directions, which ended up working out fine. We used lettuce, cheese, tomatoes, sour cream and salsa as the toppings. This is not a recipe I would use often, as it takes time to prepare, but very tasty all the same and a nice switch from regular taco's. Thanks Al Al for a great recipe. Made for Spring PAC 2008.
CHILI: Sort and discard debris from beans and rinse well.
Place beans in 3-4 quart pot with water; bring to a boil on high heat. Cook uncovered for 10 minutes.
Remove from heat; cover and let stand for 1 hour. Drain beans and set aside.
Rinse pot and return to medium-high heat. Add the chopped onion and ground beef and cook till meat is browned.
Drain the grease and add all remaining ingredients. Bring to a boil on high heat; reduce heat and simmer for 1 1/2 to 2 hours, until beans are tender.
FRY BREAD: Mix together flour, dry milk, baking powder, and salt. Add shortening and rub mixture with fingers till coarse crumbs form.
Add water and stir with a fork till dough clings together.
Knead on a lightly floured surface till smooth (2-3 minutes).
Divide into 6 portions and keep covered with plastic wrap.
Shape each into a 6-7 inch circle.
In a 9x2 inch pan or electric skillet, heat 3/4 inch canola oil to 375 degrees. Fry each piece of dough till it is puffy and golden brown, turning once with tongs.
Keep warm in 200 degree oven on baking sheets lined with paper towels till ready to serve.
TO SERVE: Top each piece of fry bread with chili, and as many toppings as you like.