Elmotoo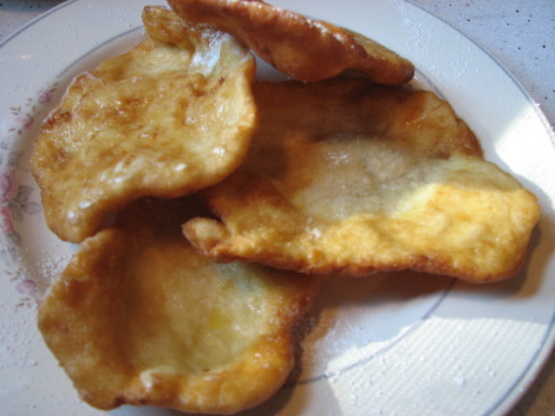 A desert similar to sopapias. Very tasty!

Hee hee the kids were thrilled to have this for breakfast! This is so fast & easy. I cooked them until they had browned lightly but they were a bit hard & crunchy. Is this right? I was expecting softer - like the doughboys at the county fair. Regardless, they were happily gobbled up! Thanks!
Combine dry ingredients in a large mixing bowl.
Add water to make a soft dough, knead lightly.
Make 1 inch balls of dough and roll / pat into flat circle (a tortilla shape)1/4 inch thick.
Heat shortening in a frying pan until very hot. If you flick a drop of water into the oil and it makes that popping noise, you'll know its hot)
Gently place dough into oil and cook until both sides are golden brown.
Sprinkle fried bread with powdered sugar and drizzle honey of the top.
Serve hot.