Naudine's Potato and Spinach Bake
GT in SA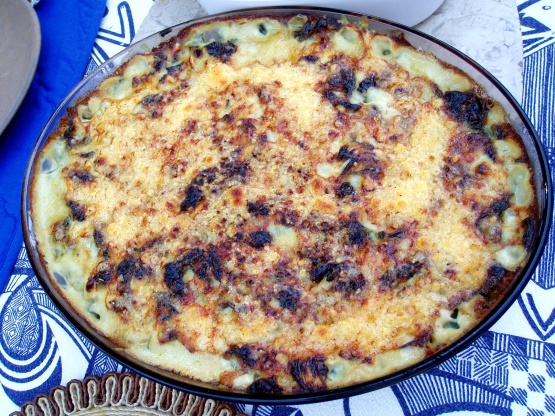 Pinched this recipe from my wife, Naudine. Even kids eat this. Use your favourite choice of soup powder. Our preferences are: cauliflower and baby marrow, potato and leek, white onion - in that order.

made this last night and loved it....had to use mushroom soup but it was fine, will try again with your recommendations....I did par-cook the potatoes becoz I wasnt sure if they would cook sufficiently in just 15 minutes baking in the oven? it turned out great, but let me know if it was unnecessary to parcook. Oh and I added garlic. And might add a chilli in future, since we like them.
Preheat oven grill.
Cut potatoes in chunks and cover bottom of ovenproof dish with potato chunks.
Fry onion in oil, in a skillet, until translucent.
Add chopped spinach and cream, reduce heat and simmer until spinach is cooked.
Mix soup powder and milk and stir into spinach mix.
Remove from heat and pour over potatoes.
Sprinkle cheese on top and place under grill until cheese bubbles.
Reduce oven setting to 180 Centigrade and bake for 15 minutes.
Serve warm.