Natural Chocolate Peanut Butter Oatmeal
flower7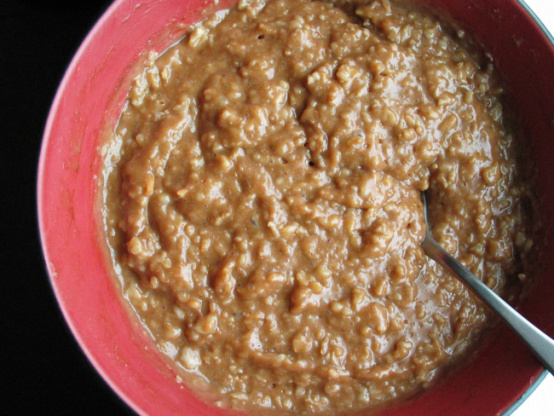 This is a healthy, delicious way to start the day. It combines my two favorite flavors, peanut butter and chocolate. It's a healthy version of a peanut butter cup.

I've never been a big fan of cooked oatmeal but always want to try it again in case my tastes have changed. I figured if I was going to like any recipe, this would be the one - who can argue with peanut butter and chocolate? :) I guess I still don't like oatmeal much though. The taste was fine, but maybe the oatmeal I used was not the right thing because it was pretty mushy (all I had was Old-Fashioned oats). I used regular brown sugar instead of stevia but otherwise followed the recipe. I am glad I tried it but probably won't make this again. Thanks for sharing!
1⁄2 cup rolled oats

2

tablespoons natural-style peanut butter

2

teaspoons unsweetened cocoa
stevia, to taste
Cover oats in water and microwave on high for 3 minutes.
Add peanut butter, stir until well blended.
Add cocoa and mix thoroughly until smooth.
Finally, slowly add stevia until desired sweetness is reached.