CoffeeB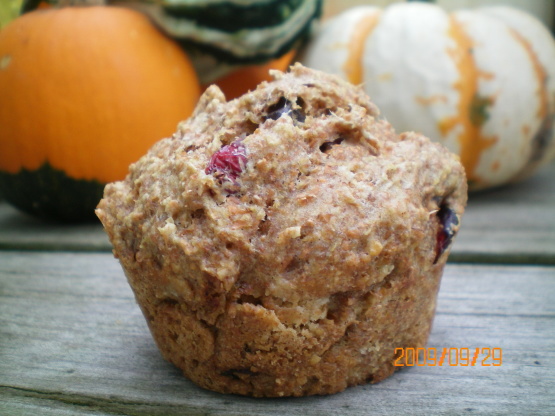 These are a dense, high fiber muffin. Excellent heated in the microwave for a few minutes.

Great recipe! You can anything to this. Spices, nuts, fruit! Only changes is I used Unsweetened Soy Milk (same amount) and Organic Cane Sugar (I use this in ALL of my baking, same amounts. You would never know the difference.) I also used baking cups and forgot to spray them. DON'T FORGET this step ;)
Preheat oven to 375°F.
Prepare non-stick muffin tin by spraying with cooking spray.
Mix the oat bran and boiling water in a large bowl, set aside.
In a small bowl, combine egg whites, sugar, buttermilk, oil and fruit.
Add egg white mixture to oat bran and mix until blended.
Combine flours, baking soda and cinnamon.
Add dry ingredients to oat bran, stirring just until blended.
Spoon batter into prepared muffin tin.
Bake 15 to 20 minutes.
All of the muffins can be cooked at one time and frozen for later use or the batter keeps for several weeks when stored covered in the refrigerator.