Nat's Oven Baked Zucchini Sticks
Diana 2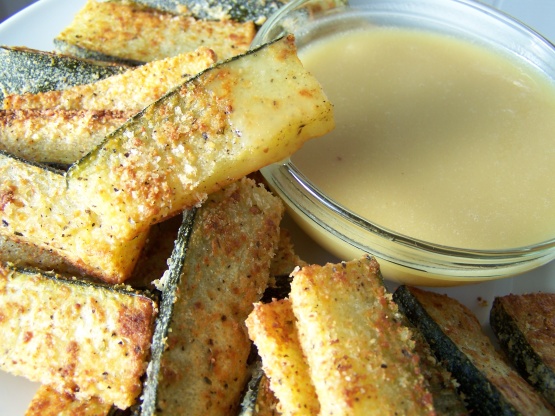 I love zucchini sticks, and these baked ones are better than any fried version.

The flavor of the coating was excellent; however, due to the mushy texture of the zucchini, this recipe only gets 3 stars. I think the called-for dimensions of the zucchini are much too small. Next time I will cut them much thicker, and then broil at 525 degrees for a shorter length of time to get that firm texture inside and crispy coating outside. I did manage to somehow eat the entire sheet of zucchini with my homemade ranch dressing, though...how did that happen, I wonder? Well, like I said, the flavor of the zucchini and the breaded coating were excellent! It was just the texture that was off. Alas, I must make and taste test an entire sheet of these once again to get it just right. A cook's work is never done...
Preheat oven to 450 F.
Spray large baking sheet with oil cooking spray.
Cut zucchini into slices, (about 1 1/2 inches by 3/4 inch).
Toss zucchini in a bowl with the olive oil.
Mix dry ingredients in a plastic bag.
Place zucchini, a handful at a time, in the plastic bag, and shake to coat.
Bake 20 minutes.
Turn zucchini, bake another 10 to 15 minutes, or until golden brown.
Serve with Creamy Horseradish Dip recipe#79910 or your favorite dip.