National Tortilla Chip and Chili Day Crock / Stove Top
Rita1652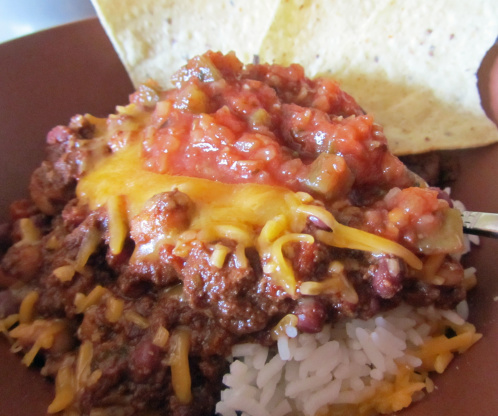 February 24Th is National tortilla day and what better way to celebrate along with National Chili Day on the 28TH. Leftovers can be spread over a layer of cream cheese topped with shredded cheese, warmed then topped with salsa, sour cream, jalapenos.... served with tortillas Made for Dining on a Dollar.

What do you bring to your neighbors house, along with 3 of his friends who is a firefighter ? CHILI !! So thats what I did. Made this the slow cooker method. Made this for 5 hungary men, during the hockey game. I used sweet paprika, 2 chipotle chilies, and 1/4 teaspoon red pepper flakes. This was nicely seasoned, and definately flavored to a tee. I, myself did not care for the black-eyed peas, but everyone else did. Great enough for 2 servings for each of us, and the rest of the guys really enjoyed this very unique recipe. A couple of them had never tried black-eyed peas in chili, as I ran off (xeroxed) 4 extra copies of this recipe to them. Also had plenty of heat, but not overpowering. I myself will try this in the future, halving the recipe, one stovetop, and one crockpot, one with the black-eyed peas, and one with out. Excellent creation you have come up with, and good luck in the contest.
Brown bacon till crisp remove and set aside to cool.
In the bacon fat brown ground beef beef cubes along with the with onions.
Combine beef and onions with remaining ingredients in slow cooker. Stir to blend.
Cover and cook on LOW for 9 to 11 hours.
Crumble bacon and stir into chili.
Add additional oregano, salt, pepper and cayenne to taste if needed.
Can be served over rice and topped with Tortilla chips, salsa, slice jalapenos, sour cream and avocado slices.
Optional stove top method:.
After browning meats and onions in a large pot add remaining ingredients except beans stirring to combine.Adding 1 cup water or beef broth. Bring to a boil then simmer for 1 hour. Stirring occasionally. Add beans and simmer for 1/2 to 1 more hours.Season to taste and Garnish as you enjoy.