Nathalie Dupree's Squash Casserole
CarolAT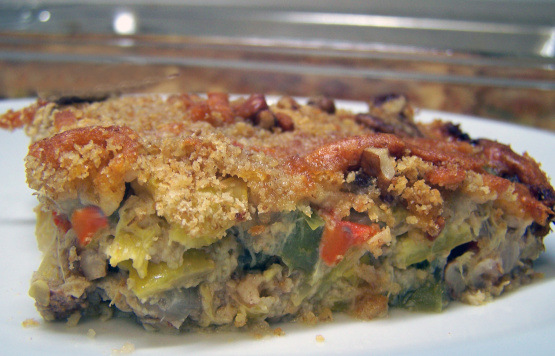 Nathalie used to have a cooking show on our local PBS station. She was always entertaining to watch.This recipe is an old favorite;always a hit at family gatherings.

This squash casserole had great flavors and colors running thourh it with the red and green bell peppers. Next time this is made, I will start cooking my squash first and then saute the peppers and onions since it cooked up much faster than the squash. I liked the pecans in the squash but did not care for the bread crumbs on the top. I think I will mix the bread crumbs into the casserole next time before baking. Thanks for posting this recipe. Adopted for PAC April 2008.
Preheat the oven to 350 degrees.
Saute the onions and peppers in 1/4 cup butter until soft.Add the garlic and cook briefly.Cook the squash in boiling salted water until tender 5-10 minutes.Drain off the.
water and mash the squash with a potato masher.Add 1/2 cup butter,1 cup cheese,the eggs,sauteed veggies,1 cup pecans and hot.
sauce to the squash and mix well.
Pour into a casserole buttered with 2 tablespoonsful of butter.Mix together the breadcrumbs and the rest of the cheese and pecans.Spread on top of the casserole,dot.
with remaining butter and bake 45-60 minutes.