Nasi Goreng - Indonesian Fried Rice
Peter J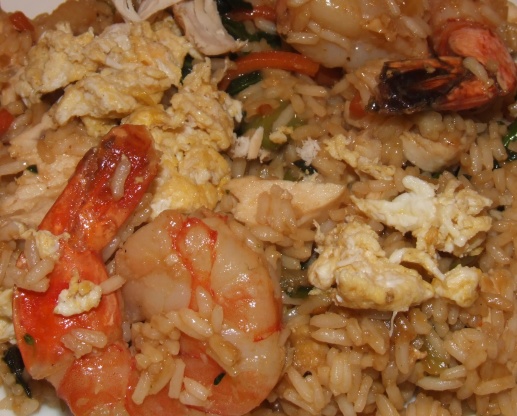 Yummy! I love the Indonesian recipes and this is no different! This is a great dish to have with the Ayam Goreng recipe I have posted. What you can include in the recipe which I personally don't is chicken and little prawns (cooked of course), to add to the actual rice mixture. Think I might whip up a batch tonight for hubby and I. Enjoy! Oh by the way I use Basmati Rice - its my personal preference.
lordy, it was bad...the shrimp paste overpowered it... It taste so fishy and grainy and for better words pungent... the fish oil does not exist so I used fish sauce... My husband was nauseous on the first bite... Ive made nasi goring before but not with all this fish stuff... I barely can give it a one star.. my garbage disposal gives it a zero :( blah
Heat oil in wok or large fry pan.
Add garlic, ginger and spring onions and sauté for a minute.
Add sesame oil, sambal oelek, fish oil, shrimp paste and ketjap manis and stir through for a few seconds.
Add the veggie mix and toss through for a minute.
Add the cooked rice and keep stirring through until well coated but not sticky.
Add the chicken and prawns and fold into the rice mixture.
Taste mixture and if necessary add some more of the spices.
If you want to top the dish with a fried egg, fry the eggs in a separate fry pan.
Serve out rice and top with the fried egg.