Narraway Chocolate Chip Cookies
CarrolJ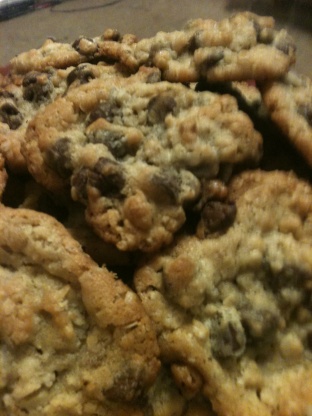 Old Narraway family recipe
Wonderful Oatmeal chocolate chip cookies. I only made a half recipe and still got about 3 1/2 dozen. (dropped by large teaspoonsful) I teased my DGD's and told them that these were more healthy because they had oatmeal in them. The youngest who is 5 said, "Even with all the grease in them?". Kids today are sooo smart. Anyway they had lots of fun helping make cookies today. Thanks for a great recipe. Made for PAC Spring 2013.
Mix the shortening, brown sugar and white sugar together in a large bowl.
Combine the vanilla and eggs in a second bowl.
Combine the flour, salt and baking soda in a third bowl.
Into the first bowl (with shortening etc.), mix, alternately, one-third of the second and third bowls ending with the flour bowl until you have a smooth mixture.
Once you have a smooth mixture, add the rolled oats and chocolate chips and mix until you have an even distribution.
Bake on cookie sheets at 375F for approximately 7-9 minutes in the top half of the oven (until they are lightly browned).