Napa Valley Red Wine Applesauce
Kree6528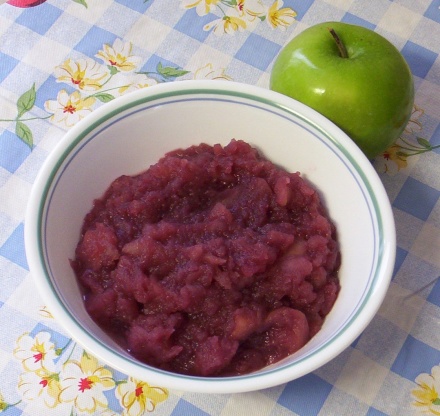 This is an adopted recipe that I have not yet tried. Comments from the original chef are: "This is excellent with barbecued pork. From California The Beautiful Cookbook."

This is fantastic! I'm not a big dry red wine fan, so I wasn't sure how it would work in this recipe, but it turned out wonderfully flavorful. The only change I made was to use margarine and reduce it to 1 Tbsp. It ended up taking about 25 minutes for the apples to soften up, and I didn't need to thicken it up any more. I'll definitely be making this again.
Combine apples, red wine, bay leaf and sugar (adjust the amount of sugar based on your preference and the tartness of the apples) in a large saucepan.
Cover and cook over medium heat for about 15 to 20 minutes.
Mash the apples with the back of a spoon as they begin to soften.
Remove the bay leaf.
For thicker applesauce, boil uncovered and stir constantly until it has reduced slightly.
Use a food mill, if you want a smoother sauce.
Add butter and adjust the sweetness by adding more sugar if necessary.