Napa Cucumber Salad With Lemon Rosemary Dressing
Bergy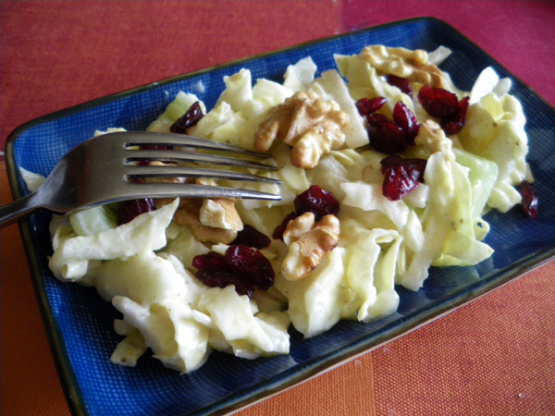 The crunch of the bitterfree cucumbers, the sweetness of the jicama, the mild brassica note of the Napa, and the tang of the fruit combine to make a tasty, well-balanced salad as eye-catching as it is delicious. Lemon and rosemary make a fresh, lively dressing that goes particularly well with meals featuring fish or chicken. Some of the ingredients look a little exotic, but it goes together as easily as an ordinary coleslaw. An excellent choice for picnics and pot lucks. "Cooking" time is chilling time.

I find that the salad was really good and crunchy. I really enjoyed the salad part, but found that the dressing part, although nice and a bit creamy, which is the kind of dressing I like, could have used a bit more flavour.
Toss the vegetables and fruit together in a large salad bowl until well mixed.
Beat the dressing together well with a fork or a whisk and pour over the salad.
Allow to stand in the fridge for 1 hour.
Toss again to blend flavors well.
Garnish with walnut halves, dried cranberries, and a sprig of fresh rosemary if desired.
Note: English cukes and Armenian cukes are longer than standard slicers as well as completely free of bitterness. If you have neither you can substitute ordinary slicing cucumbers that have been peeled and, if necessary, seeded. You'll need about 2-3 cups.
Note: The 'Zaar database has several recipes for crème fraiche substitutes. Otherwise try substituting plain yogurt, buttermilk, or mayonnaise after the contest.