Napa Cabbage Salad With a Crunch
PaulaG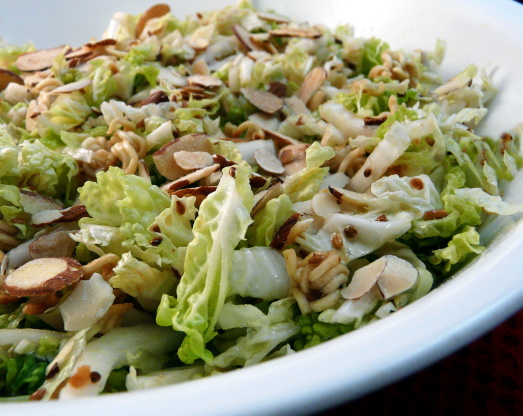 A nice refreshing salad for the summer. I do not care for coleslaw but this salad is wonderful. It does not have the heavy mayo base. The dressing also works wonderfully on a tossed green salad or steamed veggies.
My newest favorite salad! I've never tried napa cabbage before. It is tender and mild flavor. I'm made my second batch tonight. We gobbled up the first batch! Yum!
In a small saucepan, combine the soy sauce, cider vinegar, sugar, canola oil, pepper and ground ginger and simmer for 1 minute.
Remove from heat and refrigerate.
In a small saute pan, heat oil over low heat and add noodles, sesame seeds and garlic; stirring frequently, cook until golden brown.
In a large salad bowl, toss the noodle mixture and sliced cabbage together.
Add dressing and sprinkle with the Almond Accents.