Napa Cabbage Salad With a Crunch
PaulaG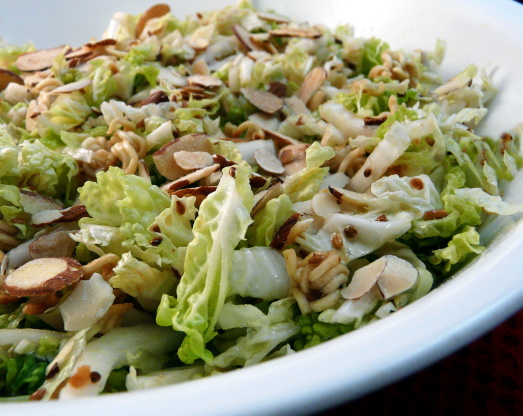 A nice refreshing salad for the summer. I do not care for coleslaw but this salad is wonderful. It does not have the heavy mayo base. The dressing also works wonderfully on a tossed green salad or steamed veggies.

This is very similar to an asian-style oil/vinegar coleslaw recipe that I make often. We enjoyed this as a side dish to dinner. For the dressing, I only used 1/4 cup sugar and it was still very good. I also used a mixture of shredded cabbage & romaine, and added in chopped avocado.
In a small saucepan, combine the soy sauce, cider vinegar, sugar, canola oil, pepper and ground ginger and simmer for 1 minute.
Remove from heat and refrigerate.
In a small saute pan, heat oil over low heat and add noodles, sesame seeds and garlic; stirring frequently, cook until golden brown.
In a large salad bowl, toss the noodle mixture and sliced cabbage together.
Add dressing and sprinkle with the Almond Accents.