Nanny's Bourbon-Baked Beans (Rachael Ray)
2Bleu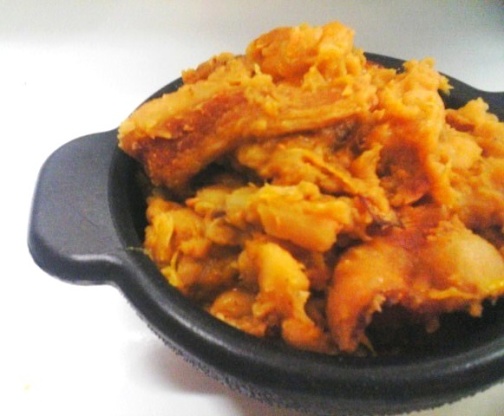 My mom made these for dinner the other night and we all loved them. Thick, with the perfect amount of sweetness.

I didn't have any bourbon so I got the okay from Flower7 to use a dark aged rum. This dish is just so full of flavour and the mango chutney while a bit unexpected just puts it over the top!
Preheat oven to 375°F.
Heat a large skillet over medium heat and cook bacon until fat begins to render out.
Add onion and cook 1 minute.
Add mustard, molasses, sugar and chutney and heat through.
Add pepper to taste.
Stir in beans then pour mixture into a large, lightly greased baking dish.
Bake 30 minutes covered.
Remove from oven and stir in bourbon.
Bake uncovered 15-20 minutes longer until beans are bubbly and thick.