Pamela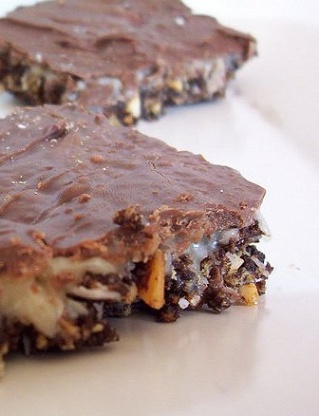 This recipe came from a Junior League Cookbook from Louisiana--published in the seventies--cookbook entitled"Talk About Good" similar to a Nanaimo bar--BUT...Better!!!

My Grandmother made these for years for the Holidays with one alternative version as well. Substitute maple flavoring/butterscotch pudding mix instead of vanilla/vanilla pudding mix to change it up.
For the first layer:.
Melt butter and cocoa together over hot water(double boiler) or in a saucepan over very low heat.
Add powdered sugar, egg and vanilla;continue to cook for a minute or two longer over low heat.
Set aside.
Mix nuts,crumbs and coconut if desired and add to first mixture.
Mix well and press into a 13x9 pan.
Chill for about 30 minutes.
For the second layer:.
Melt butter, cream and vanilla.
Add pudding mix and cook for one minute, stirring constantly.
Remove from heat and add powdered sugar.
Blend and spread over first layer.
For the third layer:.
Melt Hershey's Chocolate Bar and spread carefully over the top.
Chill for 30 minutes.
Bring to room temperature before cutting into 2 inch squares*this helps to prevent crumbling.
Store in refrigerator until ready to serve.Makes approx 60 bars.
*****Cook time is actually chilling time****.