flower7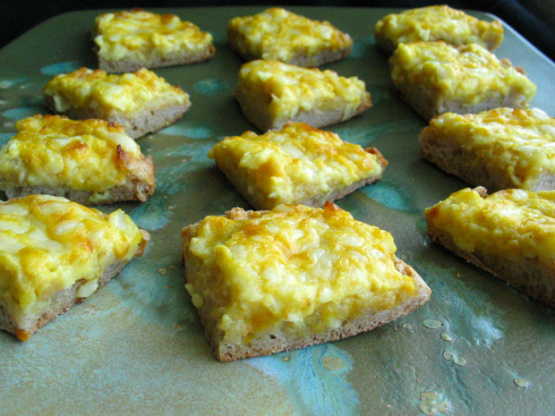 These Cheese "Pizzas" are great for parties cut into quarters or halves are great to go with a bowl of bean or pea soup and salad.

This was a nice easy appetizer. I use 1/2 the amount of Cayenne and actually think 1/8 tsp would be plenty as it *really* intensified after being heated. I used a nice sharp English white cheddar and after starting with 1/4 cup of mayo (light) I ended up adding 2 Tbsp more (so used 2 Tbsp less than called for). Otherwise made as written and had enough cheese spread for 3 muffins (6 halves). Thanks for sharing your recipe!
Mix first 5 ingredients together to make a spread. This spread will last a week or more in the refridgerator. Seems like a lot of mayonaise but it gets bubbly and brown when baked.
Spread on top of muffin halves and put on a sheet pan.
Bake at 400 degrees until top of spread browns and is bubbly.
Cut each halves into quarters and pass as a hors d'Oeuvre.