Nanci's Mock Chicken Liver
dojemi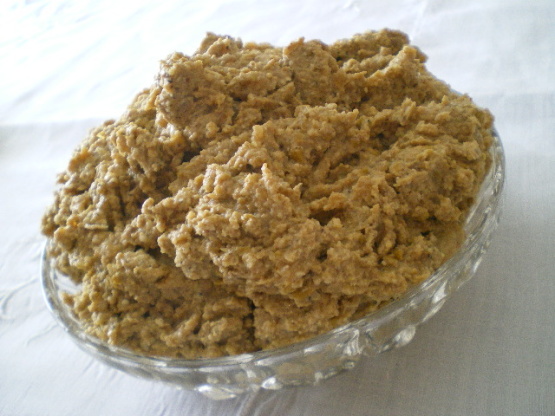 Although I love chopped chicken liver, I know it's not good for you. This is a recipe I first had at my friend's house and I did not know it 'wasn't' real chicken liver until I told her how delicious it was and she confessed. Servings are approximate (I could eat 1/2 of it).

I've made this recipe for years and it IS delicious and quite a surprise that there's no liver in it. Please note that I've found a quick shake of soy sauce makes this even more outstanding.
Saute' the onions in the oil till browned, but'not' burned.
Put the walnuts in a processor and process till fine.
Take the walnuts out of the processor and set aside.
To the processor, add the peas, 1/2 of the cooked onions and the egg.
Process till smooth.
Add the remaining onions and the walnuts and mix well.
Add salt and pepper, to taste.
Notes:.
Better the second day.
Freezes well.