Nana's Yellow (Wax) String Beans
BarbryT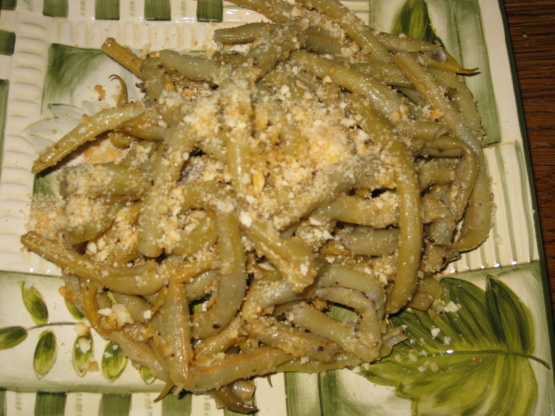 My Polish grandmother never used recipes. This so simple dish was the most difficult to duplicate because of it's simplicity. There are versions of this in Polish cookbooks using bread crumbs but they lacked the slightly sweet, butter baked flavor of cracker crumbs that accent the mild taste of the yellow beans. I haven't posted this recipe before because it sounds "too simple" but it's one of my most favorite!

Wonderful! I added one step that my Polish Godmother did....in the butter she sauteed a small diced onion until very tender, then added the wax beans back in and sauteed then both together for about 10-15 minutes longer before adding the cracker crumbs. The flavor really brought back memories. Thank you for sharing this wonderful recipe.
1 1⁄4 lbs fresh yellow wax beans

2

tablespoons butter
1⁄4 cup crushed Ritz crackers or 1⁄4 cup townhouse cracker (about 6 crackers)
salt & freshly ground black pepper
Cook beans in salted boiling water until soft (not crispy) tender and drain.
Add butter and mix until butter melts.
Add cracker crumbs, salt and pepper, stir to combine and serve.