Nimz1466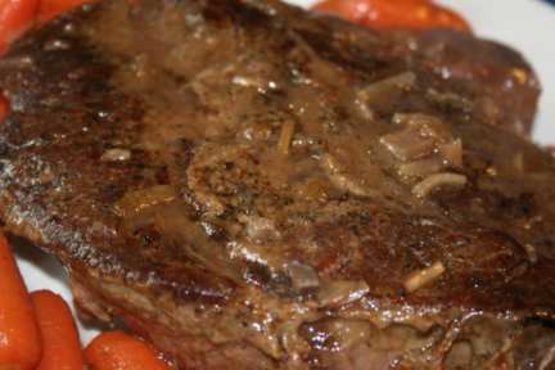 My Nana cooked this on Sunday's in the winter, it has the best flavor. If the gravy isn't thick enough when it's done add a flour slurry to thicken to desired consistency.

I just got back from vacation with my family and found this recipe to use up a roast I had in the freezer. This recipe is made with items you have right in your pantry. If you don't have French onion soup, just mix up Lipton Dry Onion Soup. I placed everything in my crockpot starting with the vegetables, beef, and then poured the gravy mixture over the top. Cooked it on low for 8 hours and the meat was very tender and the vegetables had a great flavor. Thanks for posting.
1

package French onion soup mix

1

can cream of mushroom soup
1 1⁄2 cups water

3

lbs bottom beef round rump roast
assorted root vegetables
Flour and brown Roast on all sides.
Mix Water, Soup Mix and Mushroom soup together.
Add mixture and roast to dutch oven, cover tightly.
Cook at 300deg for 2-2-1/2 hrs or until internal temp reaches 140deg.
I add carrots and celery to cook with roast for added flavor, but I cook vegetables for serving separately so they don't get too mushy.