twissis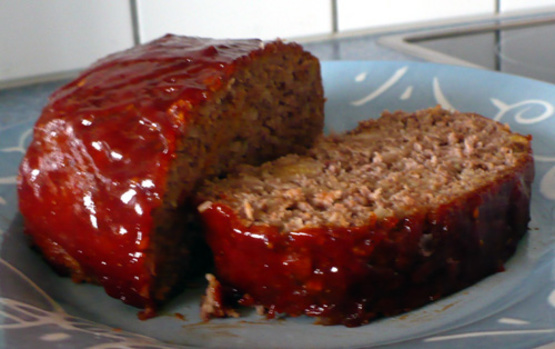 My Nana's meatloaf. Tried and true comfort food. I usually make extra topping!

Made for Spring PAC 2013 - Except for adding garlic, I made this recipe exactly as written. I have never met a meatloaf I did not like & this was no exception. BUT what I liked most about it was the outstanding tomato topping & I longed for some of that tomato flavor in the meatloaf itself. Luckily, the amt of topping allows for that. If you make the topping first & add approx 1/3 of it to the meat mixture, that leaves enough topping to generously cover the meatloaf w/a pastry brush at the start & brush more of it atop the meatloaf 2 more times as it cooks. This tasty meatloaf will definitely encore at our dining table w/the chgs mentioned. Thx for sharing this recipe w/us.
Mix all ingredients together.
Put in loaf pan (or to allow extra fat to run away from the meatloaf, from loaf on a baking sheet).
Spread toppping over meatloaf.
Bake at 350 for 1 1/4 hours.