Nana's Easter Egg Babies, Rich Egg Bread
Pumpkie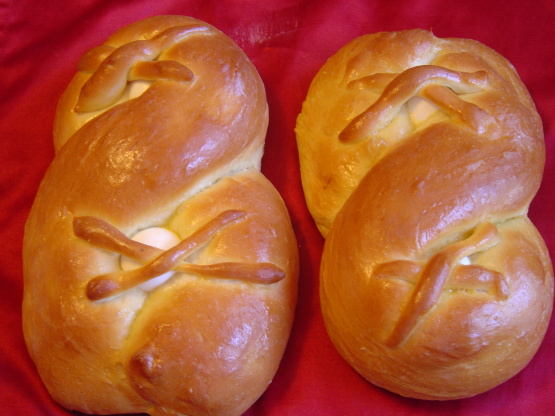 This is a recipe for the person who already bakes bread. I would not recommend it to someone who has never made bread. Bread baking is done by touch and feel of the dough at least in this Italian Family so you need to know the texture of a bread dough so it isn't too sticky but then not to add too much flour to make it dry. This has been a family tradition of ours for years. We make 20-25 loaves the day before Easter to share with family and friends. I will post a picture next week of our babies. This is not the Easter egg bread with the frosting and sprinkles. When baking bread make sure your kitchen is warm, I like to keep my kitchen temp around 70 degrees. I let my bread and dough rise on top of my dryer while running it. Another good place is in a sunny spot. Do not raise your bread on top of oven or in a low heated oven it can start to cook.
Pour 1/2 cup warm water into a large mixing bowl. Add stirring to dissolve 2 packages yeast. Let set till bubbles form anywhere from 5-10 minutes depending on humidity and temperature of kitchen.
Stir in milk, sugar, salt, eggs, butter and 4 cups of the flour. Mix with spoon until smooth. Mix in enough of the remaining flour to make dough easy to handle (not to sticky not too dry) do not add too much flour, sometimes we use all the flour and sometimes not dough should be sticky enough to handle but not overly sticky.
Turn dough onto lightly floured board; knead until smooth and elastic about 5 minutes.
Place in bowl lightly greased with oil, turn greased side up. Cover with plastic wrap and let rise in a warm place until doubled, 1 1/2 to 2 hours.
Punch down the dough, let rise again (should be less time to rise the second time about 30 -45 minutes ). After second rise divide dough into three egual pieces and shape into braids.
To shape braids: roll each piece into a 24" long. Place on greased baking sheet and bend 24 inch long roll in half. On inside of long roll at center place one par boiled egg. Then braid the two ends two times and then place second par boiled egg and finish braid.
Cover with plastic wrap and put in a warm spot to raise a third time, doubling again it should be about 20-30 minutes.
Bake 20 -25 minutes at 375°F until golden brown and sound hollow when you tap the bottom of the bread. If bread starts to get to brown you can drap tin foil or a brown paper bag over the tops of them while they are baking. You can also make one large loaf and form it into a wreath.
When braids come out of oven, brush with beaten egg and then rub with butter.
Cool and enjoy! Take eggs out when slicing bread.