MsPia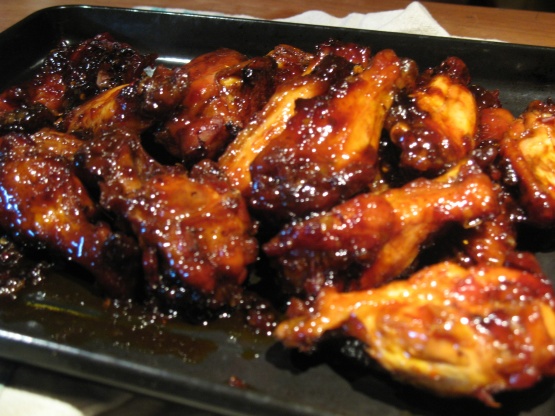 Nana was my grandmother in law. This chicken wings are fabulous. Only 3 ingredients. They take a long time to cook, but the results are out of this world. The meat slides of the bone.

Delicious! I LOVED these wings! The wing is probably my favorite piece of the chicken. Sauced up like this with Soy, and Sweet-Chili, they are delectable! It is so, so easy to do!I cut the recipe down, because with only two of us, and this being only part of a complete Chinese meal that I was preparing, 5 lbs, would have been much more than I needed. I did have a problem with the soy sauce trying to "burn out" of the pan on me. This was only because by cutting down all the ingredients, I had too little liquid for the size pan I used. It was very clearly my own fault. The wings, however still came out perfect! My advise to anyone who was going to half the recipe as I did, would be to be sure and use a small enough baking pan for how many wings you have. Also, I will try covering the pan with foil during part of the time that the wings cook in the soy sauce.I would recommend this recipe to eveyone. And,it WILL be a REGULAR around here!!Thanks Ms. Pia, this is a definate keeper!
Preheat oven to 350.
Put wings on a big roasting pan.
Cover with soy sauce.
Bake for an hour. Mixing occasionally to cover the wings with the soy sauce.
Take out of the oven an let it cool down completely.
When cool, drain the soy sauce.
Cover with the sweet chili sauce and bake at 350 for an hour, mixing occasionally to cover the wings with the sauce.
On the last 5 minutes bring the oven temperature to 450.