Wendy S.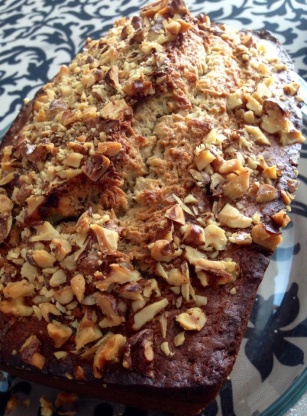 In my opinion, this is the absolute best banana bread out there. I got it through a mail order recipe club called "Grandma's Kitchen". It is so easy to make, and it seems like everyone always has some ripening bananas that they're trying to get rid of!
This is the best recipe by far. I've been making this banana bread for years...I'm not even sure where I found the recipe. Sometimes I add pecans, sometimes I don't...it's a hit either way...even my picky husband likes it! I'm going to make a loaf today! Sooooo good!
Preheat oven to 350 degrees, and spray bottom of a 9 inch round pan with non-stick cooking spray.
Beat butter in a large bowl with an electric mixer until light and fluffy.
Add granulated Sugar and brown sugar; Beat until well blended.
Add egg, egg whites and vanilla; blend.
Mix in the mashed bananas, and beat the mixture on high speed for 30 seconds.
In a separate bowl, combine flour, baking soda, salt and baking powder.
Add flour mixture to butter mixture alternately with the cream, ending with the flour mixture.
Mix in the walnuts.
Pour batter evenly into prepared 9 inch round pan (or loaf pan).
Bake until golden brown, and toothpick inserted near the center comes out clean (About one hour).