eabeler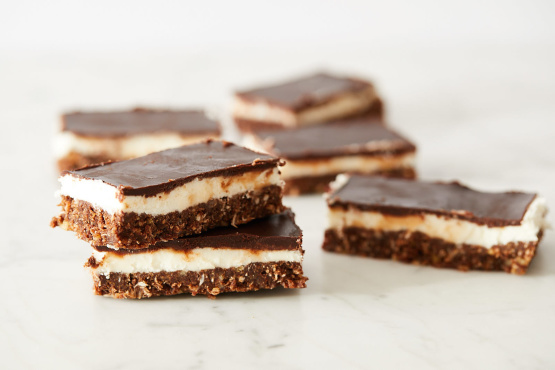 Named after the city of Nanaimo in British Columbia, the first time this square was published under that name was in the early 1950's in the Vancouver Sun newspaper! This version of the original bar is from Company's Coming - 150 Delicious Squares! Later versions change the vanilla custard layer to mint or peanut butter but the original is my favourite. You can make this a day ahead of a special occasion or keep it in the freezer. I used to freeze half because I'm very weak & I would eat the whole thing myself BUT I soon discovered that it tastes good even when its frozen!

It's impossible to spread the custard layer without refrigerating the bottom layer - I just ended up with a giant mess and had to go back to the store and do it all again. Poor instructions.
BOTTOM LAYER: Melt first 3 ingredients in top of double boiler or heavy saucepan.
Add egg & stir to cook & thicken.
Remove from heat.
Stir in remaining ingredients& press firmly into an ungreased 9 x 9-inch pan.
MIDDLE LAYER: Cream all ingredients together; beat until light.
Spread over bottom layer.
TOPPING: Melt chips & butter over low heat; cool.
When cooled but still runny, spread over middle layer.
Chill in refrigerator.
Use a very sharp knife to cut into squares.