Nana Weesie's Pumpkin Log
David04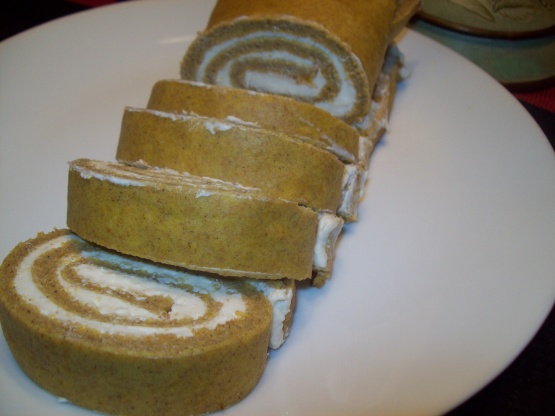 This was my mother's recipe. She would make it around the holidays and we would look forward to it every year. After she passed away, I had to get the recipe for myself so the tradition could go on. I adjusted some of the ingredients slightly to make it just a little bit closer to being healthier.
Grease a 10x15 inch Cookie sheet or jelly roll pan. Place wax paper on pan.
and grease again.
Mix Eggs, Splenda, Pumpkin Baking Powder, Cinnamon, and Flour in mixing bowl and pour on cookie sheet.
Sprinkle with 1/2 cup chopped nuts(optional).
Bake at 375 for 15 minutes.
Turn cake onto a towel that has been dusted with powdered sugar. Allow to cool.
Mix Cream Cheese, Margarine and Powdered Sugar until smooth and creamy. Spread filling on cake.(Cooled First).
Roll cake into log.
Holds shape better after being.
chilled. Can be prepared ahead and frozen.
Keep chilled.