teresas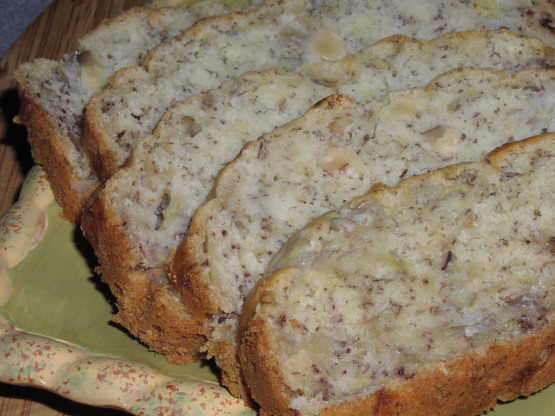 This recipe was featured in an email that I received this morning from Splenda. "A tasty and healthy banana bread. This bread has potassium and fiber from the bananas, omega three fatty acids from the walnuts, and no cholesterol!"

I had some leftovers bananas and decided to hunt down a new recipe to use them in...well...this was the winner...I loved that it used splenda and it was very easy to whip together...hubby loved it too...I didn't have walnuts but did have macadamia nuts so that's what I used...this is very moist and full of banana taste...thanks for posting it...:)
Preheat oven to 350 degrees F. Spray a 9X5-inch loaf pan with nonstick cooking spray. Set aside.
Blend the dry ingredients in a large mixing bowl. Set aside.
Add oil, buttermilk and vanilla to the mashed bananas. Mix well. Pour banana mixture into dry ingredients. Stir until just mixed.
Add chopped walnuts. Stir until just mixed.
Pour batter into prepared pan. Bake 45-55 minutes or until rich brown and the center is set.
Note: Black walnuts can be used to create a uniquely flavored banana bread.