awalde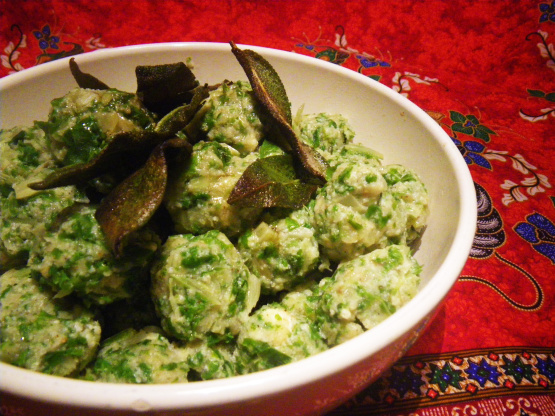 Ravioli without the fuss of making the pasta shell. Perfect served with a side of spring vegetables.

This was good but only after changing it. I made as directed first but found it much too rich. The dominate flavor was definitely gorgonzola. It was also very mushy and the balls fell apart easily. I found on the next batch, that making the balls very small (size of gnocchi or smaller), helped them to cook faster and stay together. I then experimented by adding about 1/2 cup - 1 cup flour into the dough instead of just rolling it in it. That helped A LOT. The dough was less rich and stayed together very easily. Thanks for the post - great idea and I had fun experimenting!
Boil the spinach and Swiss chard in salted water for 10 minutes.
Drain, cool, squeeze dry and chop finely.
Place the chopped greens in a bowl along with the ricotta, gorgonzola, egg yolks and two-thirds of the Parmesan.
Mix and season with salt and pepper.
Spread the flour on a board, then take the ravioli mixture out by the tablespoon and roll it in the flour, forming a small ball.
Once you have five or six balls, drop them into a pot of boiling water and cook for 30 seconds.
They will rise to the top when done.
Continue until all the ravioli balls are cooked.
Melt the butter over a low heat, then serve immediately, mixed with the left over Parmesan and sage leaves.