Naked Chicken Schnitzel a La Holstein
rpgaymer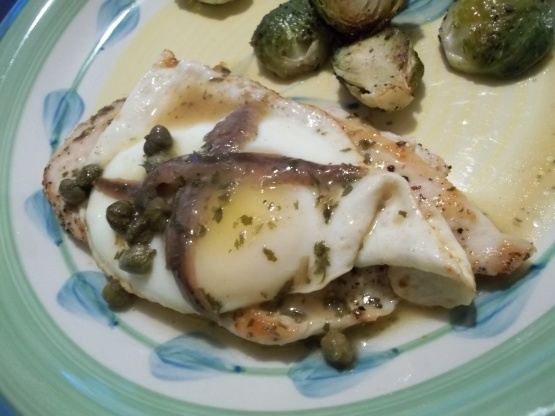 A healthier alternative to traditional Schnitzel a la Holstein. The key to a perfect sauce is to leave the yolks runny in the fried eggs.
Lightly pound the chicken into 1/8" thick cutlets, then season both sides evenly with salt and pepper.
Heat the olive oil in a large frying pan over medium-high heat. Add cutlets and cook 4 minutes on each side. Transfer to plates and keep warm.
Melt 2 tablespoons of butter in pan, then crack the eggs into it and cook until whites are firm and yolks are runny, about 3 minutes.
Place a fried egg on each cutlet; put two anchovies on each egg in a crisscross pattern.
Return pan to heat with remaining butter. Swirl the butter and scrape the pan for about 30 seconds. Stir in parsley, capers, and lemon juice, then pour the sauce over the the cutlets. Serve.