karen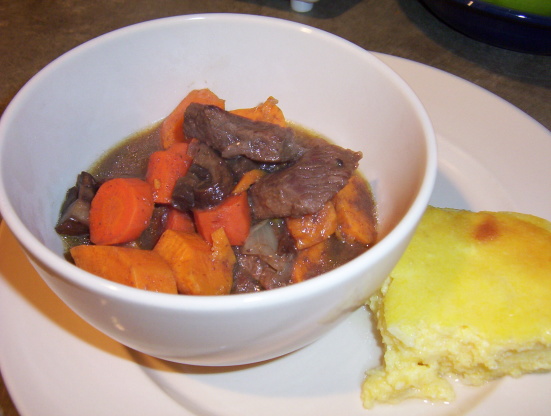 My mom used to make this for me at Christmas, we are not Ukrainian and I am not sure where she got the recipe but its filling and hot and I haven't had it in a number of years.

Top Review by karen
This cornbread pudding has a wonderful flavor. I cut the recipe in half, but did use only 4 tbsp of butter and one small onion. Everything else I cut in half. Next time I would cut the butter back even more, maybe 2 tbsp for a half recipe and 4 for full recipe. I was expecting something more like cornbread, and was thrilled with the wet puddingish texture, and the wonderful onion flavor. This is definitely a keeper. I'm so happy that I adopted KennKonn for Pick a Chef 2006.
Saute chopped onion in butter.
Do not brown.
Turn heat to low.
Add cornmeal to butter and mix well.
Add the sugar, salt and warm milk.
Stir slowly until the cornmeal begins to thicken.
Remove from heat.
Add the eggs and baking powder. Mix well.
Pour into a greased 3-quart casserole. Bake at 325 degrees F. for 1 hour.