alligirl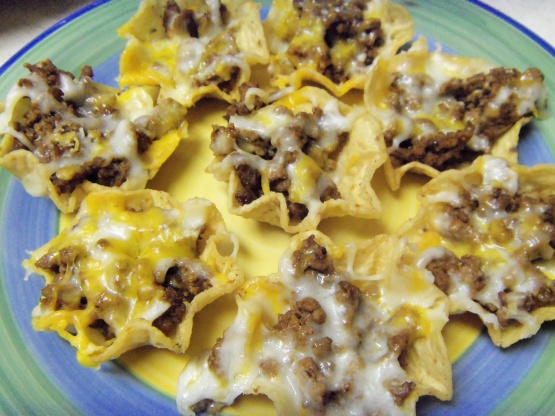 "I love making this appetizer for all my parties...I get tons of requests and its a perfect finger food!"

I have been making these for as long as I can remember. I also put the meat on, then refried beans, one slice of olive, placing a small peice of jalapeno inside the olive, on top of that I place a small peice of tomato. After all that I top them of with a drizzle of velveta sauce, then finishing them with some grated chedder cheese. Pop these bad boys in the oven at 400 degrees for 5 minuets. I always make about 50-60 of these. It takes awile but so worth it. As for them getting soggy, they do. I keep the ones I don't eat in the fridge, and pop them in the oven at 425 degrees for 5 1/2 minutes, they crisp up nicely.
1

lb extra lean ground beef

250

ml salsa

1

(10 ounce) bag Tostitos Scoops

1

cup shredded cheddar cheese

1

cup sour cream or 1 cup guacamole
Cook the ground beef on medium to high heat in a non stick pan until brown and no longer pink.
Drain the ground beef and rinse your pan and add beef back to your pan.
Pour the jar of Salsa into beef mixture and let simmer until the beef fully absorbs the sauce. The longer you let simmer the better it will taste.
While the mixture is cooking, heat oven to 350 degrees and place a cooking sheet on any flat oven pan. Place the Tostitos scoop cups facing up in on the pan.
Once the mixture is ready you can spoon it into Tostitos scoop cups and sprinkle with the cheddar cheese.
Cook in the oven until the cheese is melted.
Place each scoop cup on a platter and you can either leave sour cream or guacamole on the side or add to each cup.