Nachos Agrios (Sour Cream Nachos)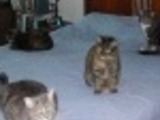 Posted for Zaar World Tour 2005. I thought I'd never post a recipe I'd never make, but I think this is it. I DO only post recipes that sound very yummy, like this one. It's high in fat, so it's for those of you who think you can handle it. It sounds unbelievably good. I love nachos, who doesn't? From a special edition of Saveur, The Best of Tex-Mex Cooking. From San Antonio's Los Barrios restaurant, it's presumably "the most outstanding appetizer there is." Adding the water comment is my own addition.
Directions
Preheat oven to 300 degrees F.
Heat refried beans in a pan over medium heat until hot (add a little water, but not too much, if you think it's necessary).
Spread chips out evenly on large oval oven-proof dish. Spread beans on top of chips, sprinkle cheeses over beans, and scatter jalapenos over cheese.
Bake until cheese is completely melted, about 5 minutes. Garnish with dollops of sour cream then scatter pimentos over nachos. Serve immediately.
Most Helpful
now THIS is a nacho!!!!!!!!
This is great recipe. The only thing I changed was adding sliced black olives on top also made it even better. Quick to fix in a pinch.
Easy and good!! I didn't put jalapenos and used green onions instead of pimientos, just my preference! These are good! I used PanNan's Easy Refried Refried Beans Recipe #41168 for the beans.