Nacho Chicken and Rice Wraps (4 Ww Points)
punkyluv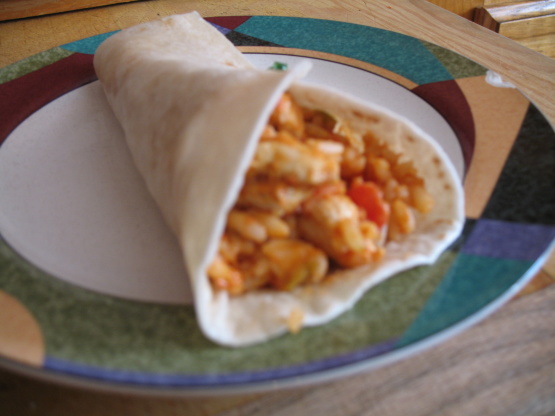 from aimee's adeventures. UPDATE:JAN 13,2009: Made these and they are pretty good! I would definately suggest to add a small can of green chilis and maybe a dash of red pepper flakes to the cheese mix at the begining! It was a tad bland but still really good! I used one can of the cheese soup and one can of the southwest cheese soup!:)

this was pretty good. I used Medium salsa, which was kind of spicy for the kids, but we will have it again!
Mix soup, water, salsa, rice and chicken in slow cooker. Cover and cook on LOW 6 to 7 hours or until rice is done. Spoon 1/2 cup rice mixture down center of each tortilla. Fold tortilla around filling.
Serves: 15 (1/2 Cup Rice + 1 Tortilla).
Per Serving: 210 Calories; 3g Fat (12.1% calories from fat); 11g Protein; 36g Carbohydrate; 3g Dietary Fiber; 17mg Cholesterol; 704mg Sodium. Exchanges: 1 Grain (Starch); 1/2 Lean Meat; 1/2 Vegetable. WWP: 4.