-Sylvie-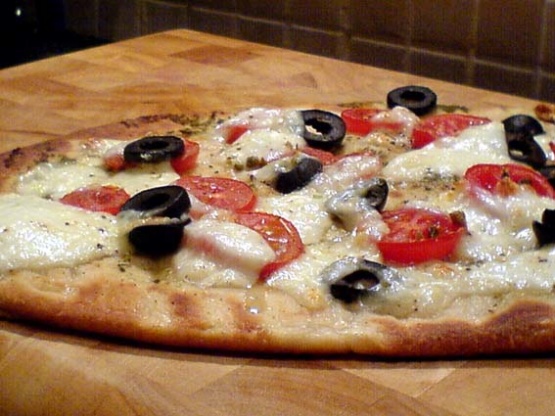 I just bought Nigella Lawson's latest cookbook, 'Nigella Express' which has a recipe for Naan Pizza. The only ingredient I had in was the naan, but I liked the idea and adapted the recipe to fit the ingredients I had in my fridge and larder. The recipe is very versatile and you could play with all kinds of toppings, for example using pizza sauce instead of the pesto, using a different cheese or adding mushrooms. This makes a great snack or even a quick and easy dinner if served with a side salad, it would even make a nice appetizer to share. Oviously you can double, trebble or quadrouple the recipe to meet your needs.

Naan makes the perfect pizza crust IMO. It's great to have on hand in the freezer and simply throw on whatever you have. I did not make the recipe exact, I used olive oil, grilled zucchini and mushrooms, mozzarella, provolone and a few crumbles of gorgonzola on top. In summer it's too hot to use my oven and one naan fits right into my toaster oven. Gourmet pizza taste at a fraction of the price, while I clear things out of my fridge!
Preheat your oven to 200C/400F/Gas 7.
Place the naan on a baking tray.
Spread the pesto all over the naan.
Scatter the tomatoes, olives and cheese over the top.
Sprinkle with oregano on black pepper.
Place in the oven and bake for 7-9 minutes until the cheese is bubbling.
Enjoy.