Hermswok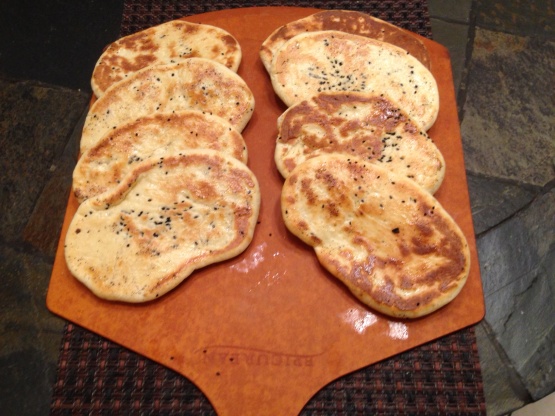 This is a fabulous Madhur Jaffrey recipe...

Deserves 10 stars! Easy, fabulous, versatile. I sprinkled salt on top before baking them and it was great. Brought up the idea that you could add garlic, italian seasoning, grill seasoning, all kinds of things to go with all kinds of cuisines. I will be making this bread again and again, my husband went crazy over it:) Thanks so much!
Sift the flour, salt, baking powder, yeast and sugar in a bowl and pour in the hand-hot milk, oil, yoghurt and the beaten egg and mix it all together to form a ball of dough.
Place the dough on to a clean surface and knead it for 10 minutes or more, until it is smooth and satiny.
Pour about 1/4 tsp oil into a large bowl and roll the ball of dough in it.
Cover the bowl with a piece of cling film and set aside in a warm, draught-free place for an hour or until the dough has doubled in size.
Pre-heat your oven to the highest temperature. Put the heaviest baking tray to heat in the oven.
Punch down the dough and knead it again and divide into 9 equal balls.
While working on 1 ball, keep the remaining balls covered. Flatten the ball using your hands (or rolling pin) into a tear-shaped naan, about 15 cm in length and about 12 cm at its widest. Brush the top with melted butter.
Remove the hot baking tray from the oven, grease it well with butter or oil and place the naan on to it (I cook 4 naans in one batch).
Put it into the oven on the top rack for 2-3 minutes. It should puff up and brown slightly (do keep an eye on it after 2 mins).
Once puffed up and browned on one side, flip the naan and back into the oven again for another 1-2 minutes till the top of naan goes golden brown (keep an eye after 1 minute).
Wrap the naans in a clean tea towel and serve hot.