Mystic Moon Pistachio Date Nut Loaf
Pamela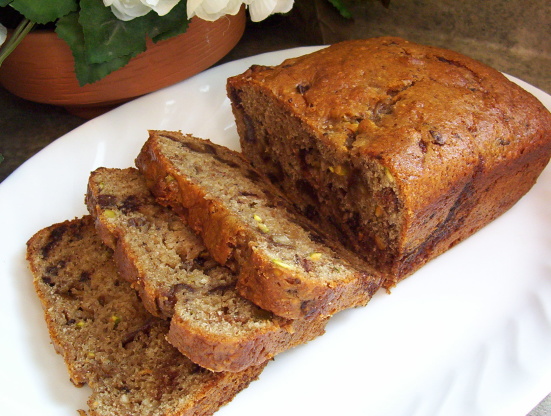 A nice and easy to put together quick bread delicious as a morning coffee cake. No overly sweet yet rich with Dates Pistachios and chunks of chocolate.

I've made this probably 5 or 6 times and it is amazing! I usually leave out the chopped dates and add a few more chocolate chips :) We've had special requests to make this bread over and over again. Thank you for posting!!
Preheat oven to 350ºF.
In a small bowl combine flour, baking soda, salt, and cinnamon. In a large electric mixer bowl cream together the tahini and brown sugar; add the egg and beat until smooth.
Now add the flour mixture and yoghurt alternately, beating well after each addition, ending with youghurt. Add the vanilla and beat until smooth.
Add the Pistachios, dates, and bittersweet chocolate chunks and mix until well blended.
Turn ito a greased and floured loaf pan and bake for about an hour at 350ºF or until a toothpick inserted in center comes out clean. Cool in pan 10 minutes and then turn out onto wire rack to cool completely.