Mystery Lady's Persimmon Pudding
Soup Fly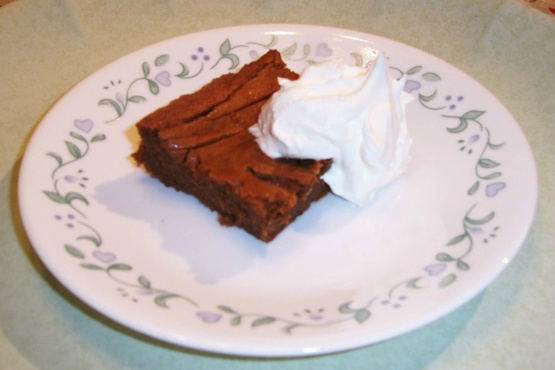 The name is pudding, but the texture is more like an extremely moist cake. This recipe IS the holiday season to me. My grandmother makes it every Thanksgiving and Christmas. She used to make it the hard way, but learned a trick in the grocery line one year. A lady had several spice cake mixes and Grandma asked what she was making - she said persimmon pudding. Grandma got the recipe and never looked back. :-) I can't tell you how many people I've had say "eww, persimmon pudding?" only to beg for another piece!

Top Review by evegpt
I would definitely call this a cake, a nice and moist one. I used carrot cake mix instead of spice and I frosted it with Fudge Frosting. My BIL pronounced it the best cake he had ever tasted and my DH loved it too. So it was a big hit. I will remake this but for my taste, I am going with just a golden cake mix next time. I thought the persimmon taste sort of got lost in all that spice flavor.
1

(18 3/4 ounce) box spice cake mix

3

eggs
1⁄4 cup oil
1 1⁄2 cups water

1

pint persimmon pulp
whipped topping (optional)
Mix cake mix, eggs, oil and water together in large bowl.
Eggs, oil and water quantities may vary with cake mix brand- be sure to double check yours.
Add persimmon pulp to batter and mix well.
Pour batter into a lightly greased 9"x13" cake pan.
Bake at 350 degrees for 50-55 minutes or until toothpick placed in center comes out clean (this"cake" does not rise, don't worry).
Allow to cool.
Serve cold or at room temperature.
Cool Whip or whipped cream is an excellent topping!