mikey ev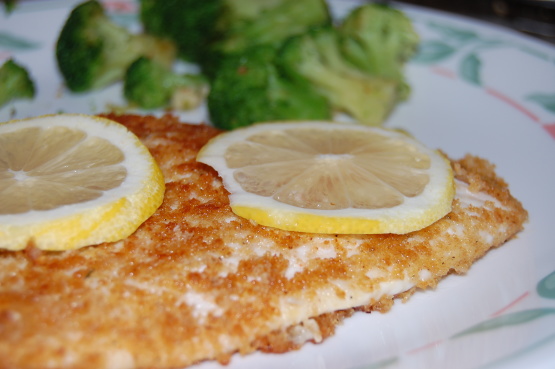 From a magazine. I had it in my collection. The note says NOT to use fresh bread crumbs since in this recipe it won't be as good as with fine, dry bread crumbs.

I really like this recipe, especially on a busy night after work. I first came across it in the February 2004 issue of Gourmet magazine. It is the creation of Tom and Pam Kreider of Nashport, Ohio, inspired by their trip to the island of Mykonos in the Aegean. Thanks for posting, Oolala!
Put oven rack in middle position and preheat oven to 200 degrees F.
Combine fish, half of the lemon slices, wine, and 1/4 teaspoon salt in a shallow dish. Marinate, covered, at room temperature 30 minutes.
Meanwhile, whisk together egg, milk, and another 1/4 teaspoon salt in a shallow bowl.
In another shallow bowl, stir together bread crumbs, garlic, parsley, pepper, remaining 1/4 teaspoon salt.
When fish is done marinating, dip fish pieces, one at a time, in egg mixture, letting excess drip off, then dredge in bread crumb mixture, shaking off excess. Transfer to a sheet of waxed paper, arranging fish in one layer.
Heat 2 tablespoons oil and 1/2 tablespoon butter in a 12" non-stick skillet over moderately high heat until hot but not smoking. Fry 2 pieces of fish, turning over once, until golden and just cooked through, 4-5 minutes total. Transfer to a baking sheet and keep warm in oven, then cook remaining 2 pieces of fish in remaining 2 tablespoons oil and the remaining 1/2 tablespoon butter in the same manner.
Serve fish with remaining lemon slices.