My Wonderful Bread and Butter Pickles!!!
Smilyn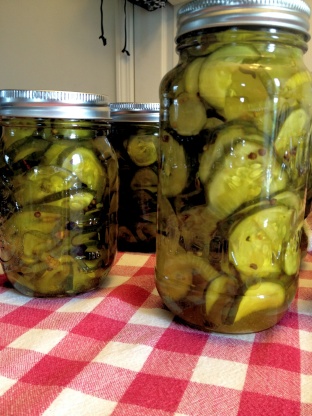 I thought I lost my recipe and almost had a heart attack!! So here it is. I've been making this for years and every single one who tries the pickles absolutely love them. I hope you do too!

Best bread and butter pickle recipe I've found. The pickles are crisp and flavorful. This will definitely be my standing recipe.
Wash cucumbers thoroughly using a vegetable brush and drain on a rack.
Slice unpeeled cucumbers into 1/8-1/4" thick slices. I use a food processor for this step.
Add onions and garlic.
Add salt and mix thoroughly.
Cover with ice cubes, allow to sit for 3 hours.
Drain thoroughly, remove garlic.
Combine sugar, spices and vinegar.
Heat just to a boil.
Add cucumbers and onions and heat 5 minutes.
Pack loosely into clean, pint jars. Adjust lids.
Process in a boiling waterbath for 5 minutes.
Start to count processing time as soon as the water returns to boiling.
Times are approximate.