My Way Creamy Sauce - Tuna Casserole
llk2day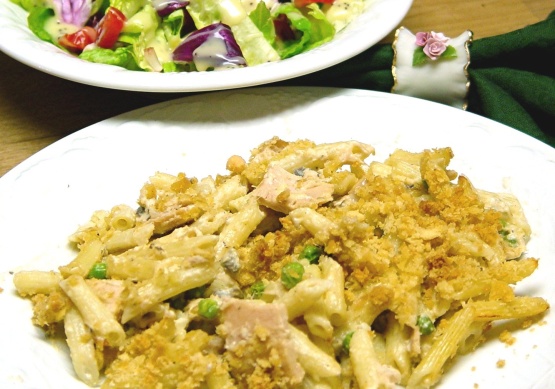 My Tuna Casserole recipe below is only one way to use this great "Creamy Sauce" recipe. It's simple to alter the ingredients just a little and create a great ham, or chicken casserole as well....

This was very good and very rich.. it was a nice difference from the standard made with cheddar cheese.. the only differences is that I used regular paprika instead of Hungarian.. I can never seem to find the Hungarian kind where I live and I put crushed potato chips on top instead of the butter and saltines.. will be making again!!
In a sauce pan combine cream of mushroom soup, milk, Velveeta, frozen peas, onion, and spices.
Stir several times over medium/low heat until the cheese is melted.
In a bowl combine tuna, mayonnaise, pasta and only 1/2 the sauce, then pour into a 9x13 lightly greased glass baking dish.
Set the remaining 1/2 sauce aside covered with a lid.
Quickly mix the melted butter and crackers and sprinkle evenly across the casserole.
A sprinkle of Parmesan cheese on top is nice.
Bake at 375°F for 20-30 minutes or until the topping is light toasty brown.
Note: The extra sauce will be served re-heated in a separate bowl and used like a gravy spooned over the casserole servings.
Serve with a nice green salad and enjoy.