My Way Creamy Sauce - Ham Casserole
llk2day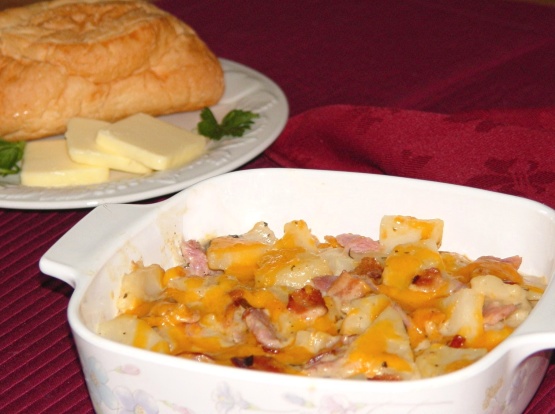 Great recipe for leftover ham, & boiled potatoes. I alway cook extra so I can just make this easy to make casserole. You can always use deli thick sliced ham as well as your choice of veggies.
Top Review by Merlot
I will purposely make a ham just so I can have leftovers in order to makes this great dish again! The combination of ingredients can't be beat . . . producing a comfort food at its best. I used the cream of chicken soup and I threw in some broccoli. Yum, yum. Thanks so much for sharing this, Lady Laura.
In a sauce pan combine soup, milk, butter, chopped onions, and Velveeta cheese.
Stir several times until the cheese is melted.
Remove from heat and fold in the mayonnaise and sour cream.
In a bowl combine ham, potatoes, seasonings, the broccoli or choice of vegetable if adding one, and only 1/2 of the sauce.
Set aside the other 1/2 sauce covered with a lid.
Sprinkle the cheese evenly over the casserole.
Bake in hot 375° oven uncovered for 20 to 30 minutes or until the cheese topping turns light toasty brown.
Note: The extra sauce will be re-heated and served in a separate bowl or small individual bowls and spooned over the finished casserole servings at the table.
Served with a nice green salad and french bread makes a nice meal.